Norton County Hospital offers outpatient surgery services, which means patients can have their surgery and return home, often the same day. For photos and information about some of our surgical equipment, visit this link.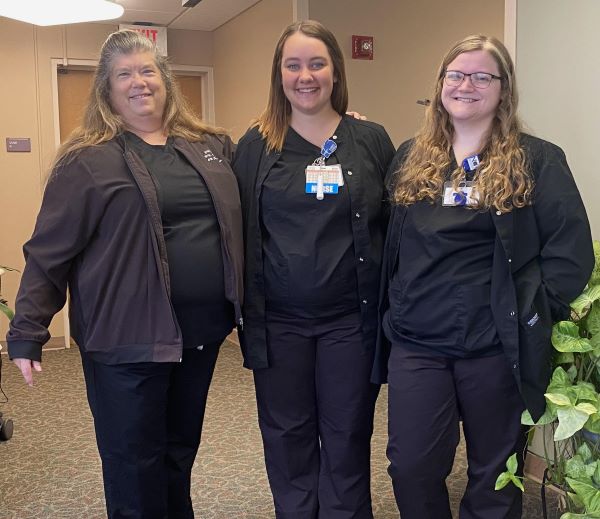 Information for Patients
Before Surgery
Norton County Hospital Surgery department will call you the day before your procedure to let you know what time to arrive at the hospital. If you have not received a call the day before by 4 p.m., call 785-877-3351 and ask to be transferred to the Surgery department.
Plan to check in: You will need to arrive and check in at the hospital's outpatient entrance, which is a short distance west of the main entrance. You will need your insurance card during check in. You may need to call your insurance company to ask if prior approval from the company is necessary for surgery. You may also need to have tests completed prior to your surgery, which your medical provider and/or nurse will explain to you.
DO NOT EAT OR DRINK ANYTHING AFTER MIDNIGHT THE NIGHT BEFORE SURGERY. You may brush your teeth, but do not drink the water. Restrictions on eating/drinking (including chewing gum, candy, mints or chewing tobacco) reduce the likelihood of vomiting. If these are not followed, surgery may be cancelled.
DO NOT TAKE YOUR REGULAR MEDICATIONS THE MORNING OF SURGERY UNLESS TOLD OTHERWISE. If your medical provider tells you to take your medications, take only with a small sip of water. Special instructions may be given to you by your medical provider and/or nurse.
Smoking at any time, but especially after bedtime the evening before surgery, is strongly discouraged. Do not shave the surgical area in preparation for surgery. This will be done by the operating room staff as instructed by the medical provider. If you feel ill, contract a cold, cough or fever the day before surgery, call 785-877-3351, and ask to be transferred to the Surgery department.
Day of Surgery
Please shower or bathe the day of surgery or evening before, and dress in clean, loose-fitting clothing. If you wear eyeglasses or contacts, please bring your case. Contact lenses will need to be removed. The anesthetist will talk with you on arrival about any dentures or partials you may have. Please do not glue on dentures the morning of your procedure.
Leave all jewelry and valuables at home; remove all piercings. Please bring a current list of your medications with you. This should include the dose and time schedule for medicines. If you have questions, before or after surgery, please contact us at 785-877-3351. After 5 p.m. and on weekends, you may reach assistance by asking for the Nurses' Station.
After Surgery
Make arrangements for someone to drive you home and stay with you for 24 hours following surgery. You will be given discharge instructions; please follow these specific instructions given by your medical provider. When you arrive home, plan to spend the rest of the day with minimal activity. Avoid strenuous activity for at least 24 hours.
Follow specific instructions given at discharge regarding work activity. Do not engage in sports or heavy work without your medical provider's permission. Follow instructions given to you by your medical provider about pain medication. Be aware of side effects of medication, which could include dizziness.
Advance your diet slowly. Eat light foods until ready to resume your regular diet. Do not drive, drink alcohol, or make legal or binding decisions for 24 hours.
Information for Family and Friends
Your family and friends may park their cars in the parking lot north of the hospital main entrance (adjacent to Hwy. 36). Before and after your surgery, you may have visitors stay with you in your room. During surgery, visitors will be escorted to the waiting area of the hospital. Staff will be available during the daytime to keep visitors informed.
Check-in and Contact Information
When you have a scheduled surgery, you will need to arrive and check in at the hospital's outpatient entrance, which is a short distance west of the main entrance. Feel free to park in the hospital's main lot adjacent to Hwy 36.
For more information, contact:
Judy Wenzl, BSN, RN
Surgery Supervisor
Phone: 785-877-3351
Fax: 785-877-4075
Email: jwenzl@ntcohosp.com