Timeline of "Our Story"
Note: These records are based on research by staff and community members and is our understanding as "true" information. We appreciate input if a record needs to be corrected or if additional information may be missing. We will continue to add new material as it becomes available. Thank you.
1873: The first doctor on record arrived in Norton, a woman named Dr. Phoebe Amelia Oliver Briggs, along with her husband, an Indian man named John Story Briggs. They are noted as being patient, kindhearted people. With their daughter Clara Ray, they moved from Norton to Troy, Kansas, in 1884. Dr. Briggs, therefore, practiced medicine in Norton for 11 years. Both her husband and daughter died in Troy, and Dr. Briggs made periodic trips back to Norton over the years. She eventually returned to her hometown of Rogersville, New York, where she lived until her death in 1924. (Documented by Charles Oliver Corning, nephew of Dr. Briggs, and Norton Courier Lockard's History of Norton County)
1905: Dr. William C. Lathrop arrived in Norton, Kansas. Initially, he treated patients in his home. He brought with him an X-ray machine and also performed various surgeries. His wife assisted him in his practice. Treating patients and taking care of the couple's children in his home eventually became too much, so Dr. Lathrop rented the house next door as the "Cottage Hospital," where he placed a registered nurse in charge.
1910: The "Cottage Hospital" was established and equipped by Drs. Lathrop, Kennedy and Cole for meeting patients' daily care needs. It was under supervision of trained nurses. This hospital was located on the Gardner property.
1912: Upon outgrowing itself yet again, the "Cottage Hospital" also occupied the GH Griffin property. The location was at Lincoln and Kansas.
1911-13: Dr. Lathrop purchased a property to build a 20-patient hospital. It became Lathrop Hospital, which is where the current Norton County Hospital stands. Lots purchased over two years included WJ Gray lots 1 & 2, block 4 of the Golf addition; and JM Jensen lots 3 & 4, block 4 of the Golf addition.
1914: The Norton Golf Club sold lots 5, 6, 7 and 8, block 4 of the Golf addition, to Dr. Lathrop for additional room for the hospital.
1919: The private Lathrop Hospital outgrew itself in its present quarters. A corporation composed of leading businessmen of Norton planned to construct a new addition of which 35 patients could be cared for. The addition plans also established a nurses' training building. Dr. Lathrop only hired registered nurses, but because they were scarce, he started this training school (which we have been told was in the current Norton County Health Department building).
1922: The hospital becomes Norton Methodist Hospital and Home for Nurses when it was purchased by the Methodist Episcopal Church Board of Hospitals. Dr. Lathrop, in addition to Drs. Funk and Jeffries, are noted on staff. This year also marked the first commencement ceremonies of Lathrop Hospital Training School. There were five registered nursing graduates.
1927: Miss Leona Grant was named superintendent of M.E. Church Hospital.
1933: The name of the hospital changed to Laird Memorial Hospital, as Mr. John Laird and his wife, Mrs. Belle Whitney Laird, left a large gift to the hospital in memory of John (John Laird's obituary is dated Dec. 1932.)
1935: Dr. Lathrop takes back the hospital from M.E. Church Board of Hospitals through foreclosure proceedings. Name of hospital remains Laird Memorial Hospital until 1939.
1938: Dr. Lathrop and his wife sell the property to the City of Norton Municipal Corporation (block 4 of Golf addition).
1939: Name of hospital is now Norton City Hospital.
1945-46: City of Norton sells the property to the Norton County Hospital Board of Trustees (block 4 of Golf addition). Roy Wingfield was chairman of this new board. The hospital became known as Norton County Hospital.
1950: New hospital building was completed in June and drew a large crowd of more than 3,500 people. The old hospital was leased to Miss Bessie Bieber for the Andbe Home, which opened in November. Bessie was a graduate nurse of the Lathrop Hospital Training School.
(Note: Andbe Home was housed in the old hospital building until 1961, when a new facility was built.)
1960-62: Hospital opened bids for extending the west wing and developing a two-story structure to increase its capacity to 50 patients.
1965: Hospital added a north addition.
1970: Another addition was made to the Norton County Hospital. Hospital administrator noted in the 1970s was Frank Mlinar, but his exact start date as administrator is unknown by our records. We have that he was the administrator from 1970-1980.
1977: Norton County Hospital staff numbers were around 108 total employees.
1978: Norton Telegram article includes information on five doctors who serve "The Doctors Building" in Norton. Those include Drs. Colip, Hartley, Hartman, Steichen and surgeon Dr. Long. Dr. Butler retired this year, as noted in a separate Telegram article. He had practiced osteopathic medicine for more than 52 years in Norton. Also in this year, the Norton County Hospital had 43 single-occupancy beds.
1981: Richard Miller became Norton County Hospital's administrator.
1997: Dr. Glenda Maurer joined Norton County Hospital as a family physician.
2014: Ryan Stover became Norton County Hospital's administrator.
2017: Gina Frack became Norton County Hospital's administrator.
2019: The hospital announced it hired three new physicians to join the medical staff; they began employment in September 2020. They include Dr. Josh Gaede, Dr. Miranda McKellar and Dr. Theresia Neill. The hospital brought back its Labor & Delivery program with these new physicians on staff.
2021: Brian Kirk became Norton County Hospital's administrator.
2021: The hospital announced it hired an internal medicine physician to join the medical staff; Dr. Dakota Dreher will begin employment in September 2022.
More information about Dr. Lathrop, his background and his family, is available online.
We are working to fill the more recent history and sorting through documentation from 1980-present.
Photos of "Our Story"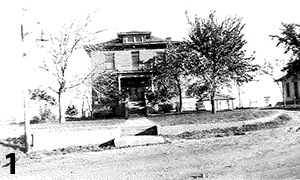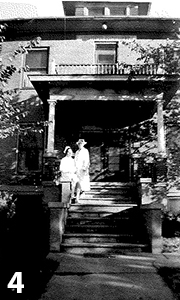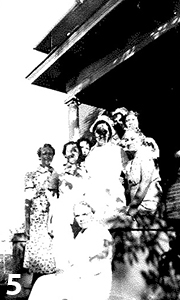 Lathrop Hospital Images
(Note: exact dates of these images unknown)
1: Lathrop Hospital in Norton, Kansas (exterior photo)
2: Dr. Lathrop, standing at left, with Lathrop Hospital staff. Nine individuals identified in this photo with Dr. Lathrop are believed to be C. Geary, B. Bieber, C. Kious, W. Bailey, N. Runnion, M. Bieber, M. Bryant, M. De Lano and I. Johnson.
3: Dr. Lathrop, sitting, with who is believed to be B. Bieber, C. Geary, W. Bailey, C. Dunlap and N. Runnion.
4: C. Geary and B. Bieber at the entrance of Lathrop Hospital.
5: Lathrop Hospital staff believed to be C. Geary, M. Bieber, M. Bryant, B. Bieber, C. Kious, W. Bailey, N. Runnion, M. De Lano and I. Johnson.
Program from 1950 Norton County Hospital Dedication
If you would like to view this program in detail, please feel free to click each page below for a larger, readble version.
Resident Input
In 2019, the hospital, with the help of staff and community input from the most recent Community Health Needs Assessment, created new vision, mission and values statements for the organization. These were approved by the Board of Trustees.
Vision
Norton County and the surrounding region thrives with access to well-resourced, sustainable, high-quality health care.
Mission
Norton County Hospital meets the evolving health care needs of our region and provides an exceptional staff and patient experience to empower health and wellness at any stage of life.
Values
We value…
A high regard and respect for every aspect of the Hospital. (Don't trash the Hospital or each other.)
Compassionate care for all who cross our threshold. (Help, don't judge.)
Every person taking responsibility for his/her actions. (Don't be a jerk.)
Modeling health and wellness. (Take care of yourself.)
Seeking to understand. (Get the facts.)
Data-driven decision making. (Do your homework.)
Historically, at least since the 1990s, Norton County Hospital had the mission of dedication to Caring, Commitment and Community.
Caring: We care for all who seek our service, in a competent, compassionate and professional manner.
Commitment: We continually strive to improve the quality of health care and our services.
Community: We aim to lead the provision, growth and coordination of health care services for this area.
We enjoy hearing stories from Norton County residents, former and current, about the Norton County Hospital and its history. If you have a story to tell, call 785-877-3351.