Norton County Hospital provides the following rehabilitation services: Physical Therapy, Occupational Therapy and Speech Therapy.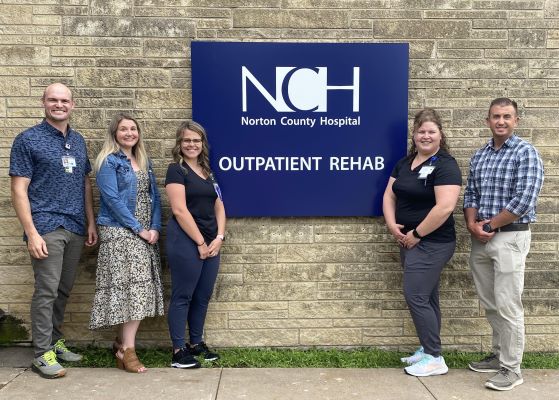 Physical Therapy
Physical Therapy provides health care services to patients of all ages and health conditions. The overall goal of Physical Therapy is to achieve the highest level of function and independence.
Norton County Hospital Physical Therapy provides services to outpatients as well as hospital inpatients in acute, skilled and intermediate levels. The department is staffed by physical therapy assistants who work under the supervision and direction of two consulting physical therapists on staff.
Patients are seen for evaluation and establishment of a plan of care. Treatment may include modalities for pain control, muscle re-education and functional limitations. An exercise program may be initiated for post-surgical, muscle weakness, vestibular or imbalance. Patient education is included to cover mobility, posture, body mechanics, the recovery process and ergonomics. An additional service offered in this department is dry needling. Functional Dry Needling® (FDN) involves inserting a tiny monofilament needle in a muscle or muscles in order to release shortened bands of muscles and decrease trigger point activity. This can help resolve pain and muscle tension, and will promote healing.
Occupational Therapy
Occupational Therapy services help increase a person's participation and independence in daily activities within their environment and community. An occupational therapist can assist people of all ages to engage in daily activities and address physical and cognitive function through the engagement of occupations.
Norton County Hospital provides occupational therapy services to outpatients, as well as hospital inpatients in acute, skilled and intermediate levels.
Patients are seen for evaluation and establishment of a plan of care. Treatment can include exercise programs for post-surgical, muscle weakness and other upper extremity injuries. Treatment can also include modalities for pain control and manual therapy for soft- tissue mobilization. Other areas that occupational therapy can address are fine motor coordination skills, pediatric therapy, fall prevention and home modification education, and wheelchair evaluations. The NCH occupational therapist can create custom orthotic splints for hand and wrist injuries.
Occupational therapy services can be obtained with a physician order and by calling the Rehabilitation department to schedule.
Speech Therapy
Speech-language pathologists (sometimes called speech therapists) assess, diagnose, treat, and help to prevent communication and swallowing disorders in patients of any age. Speech, language and swallowing disorders result from a variety of causes, such as a stroke, brain injury, hearing loss, developmental delay, Parkinson's disease, a cleft palate or autism.
Speech therapists can help with all communication disorders, voice disorders and swallowing disorders. In the case that speech therapy is needed, simply get an order from your physician and make an appointment. All speech therapy and swallow study services are available by appointment.
Hours and Contact Information
Monday - Friday 7 a.m. to 5:30 p.m.
As of Sept. 19, 2022, the Rehabilitation department has moved to a new location - 711 N. Norton Ave., Norton, KS 67654.
For more information, contact:
Kellen Jacobs, DPT
Rehabilitation Manager
Phone: 785-874-2222
Fax: 785-874-2243
Email: kjacobs@ntcohosp.com