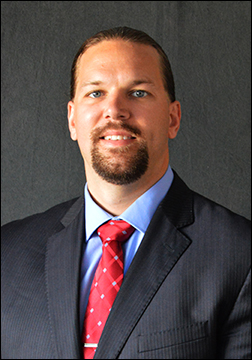 Dr. Joshua Gaede is a native of northwest Kansas, as he was born and raised on a farm and cattle ranch outside of Hoxie. Dr. Gaede said he learned from an early age that hard work and determination are the main traits necessary to succeed in life. This upbringing also ingrained in him a passion for rural living that has driven him to his current role as a family medicine physician.
Dr. Gaede graduated with a degree in comprehensive chemistry with an emphasis in biochemistry from the University of Nebraska Kearney. From there, his passion for the rural way of life and rural medicine came together as he attended the University of Kansas School of Medicine, Salina campus. Following medical school, Dr. Gaede went on to become a resident in the Cox Family Medicine Residency program in Springfield, Missouri. He began working at Norton County Hospital in September 2020, and he practices full-scope family medicine and obstetrics. He also performs many procedures, including colonoscopies and vasectomies at NCH.
Dr. Gaede, along with his wife, Kim, live in Norton with their three sons. Dr. Gaede said spending time with his family is at the top of the list of things he enjoys in his free time, but he also enjoys working out – especially weight training, woodworking, playing the piano, playing any kind of sport, and last but certainly not least, brewing beer.
To make an appointment with Dr. Gaede, contact the Norton Medical Clinic at 785-877-3305.