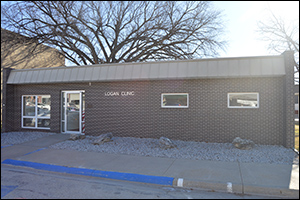 Norton County Hospital/Norton Medical Clinic staff operate in the nearby community of Logan, Kansas, at the Logan Clinic. This arrangement of sending our medical providers to the Logan Clinic started in 2016, based on an agreement between the City of Logan and Norton County Hospital.
The clinic is open five days a week. A physician assistant staffs the clinic on Thursdays, and a doctor covers the clinic on Mondays.
Hours and Contact Information
Business Hours
Monday - Thursday 8 a.m. to 12 p.m.; 1 to 5 p.m.
Friday 8 a.m. to 12 p.m
Provider is available on Mondays and Thursdays.
Appointment Hours
Monday & Thursday 9 a.m. to 12 p.m.; 1 to 4 p.m.
Hours may vary during holidays. We do our best to inform the public when hours change. If you have questions, please call the clinic at 785-689-7464.
Location
Physical/Mailing Address:
214 W. Main Street
Logan, KS 67646

Call for an appointment:
Phone: 785-689-7464
Fax: 785-689-7466

Michelle Pollock is the staff contact at Logan Clinic. Reach Michelle by calling the clinic, or email her at mpollock@ntcohosp.com.