Norton Regional Health Foundation purchases surgical instruments
February 4, 2019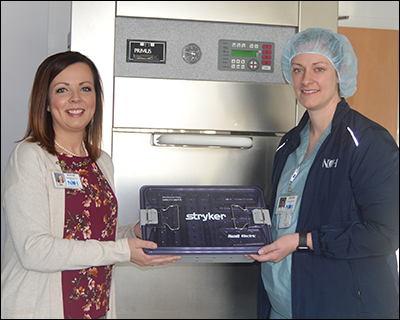 NORTON, Kan. – In January 2019, the Norton Regional Health Foundation purchased a new set of surgical power instruments for nearly $11,000 to be used for podiatry and other procedures at Norton County Hospital. This would be the hospital's second set of these tools. Having a second set of instruments allows for much quicker turnaround time between surgeries; therefore, more procedures could be done within a given day.
Jessie Dougherty, RN and Director of Surgery at Norton County Hospital, said the Stryker instruments would be mainly used by Dr. Robert Hinze, visiting podiatrist, who performs surgeries in Norton monthly. They could also be used in other surgeries. In addition to podiatry, the hospital offers some surgeries in orthopedics (Dr. Greg Sarin), gynecology (Dr. Todd Pankratz) and will have a general surgeon visiting once per month starting in February.
"With the new tools, the turnaround time between cases will go from 80 minutes to less than 30 minutes," Dougherty said. "The long time between cases was due to the time needed to re-process and sterilize the same set of instruments. With the second set, we are able to add in two to three surgeries each surgical day which benefits the surgeon, surgical staff and patients."
The surgical instruments are the second equipment purchase the Norton Regional Health Foundation has made to benefit Norton County Hospital. In early 2018, the foundation purchased a new fetal heart monitor for more than $22,000 that allowed better mobility for laboring mothers. These items were purchased based on an internal application process in which the department supervisors formally requested funds from the foundation.
"On behalf of the foundation's Board of Directors, I want to thank Jessie and our Surgery department for being proactive and thinking of ways to enhance our services and care at Norton County Hospital," said Katie Allen, Norton Regional Health Foundation executive director. "The foundation was pleased to receive the application and ultimately purchase these new surgical tools. We are committed to growing the foundation's funds to help the hospital and keep as many services as possible close to home for patients."
The Norton Regional Health Foundation is a 501(c)(3) nonprofit organization with a mission to support the enhancement of quality health care for the residents of Norton County and surrounding counties. It was established in 2016, and since then it has worked to fund hospital equipment, developed a scholarship program for nursing students and collaborated with Live Well Norton to complete community health projects such as the Armory Drive Trail and Norton Kids' Café. The foundation is currently raising funds to support the purchase of a new CT scanner for the hospital.
Allen said the foundation is grateful to donors for their generous, tax-deductible contributions. These contributions allow for healthier local communities. For more information about the Norton Regional Health Foundation, visit the Foundation tab.
###